How easy would it be to grow your gym if everyone you talked to was a potential new customer? To get there, you need to create a plan to attract new customers for your gym – don't know how? We give you the essential steps and several strategies you can implement in your gym!
Why does your gym need a plan to attract new members?
Nowadays, gyms can't buy customers' attention. You have to earn it.
A plan to attract new customers is an essential component of your gym's marketing strategy. For gyms, increasing the number of customers is the key to everything. An effective customer acquisition plan is one of the quickest and easiest ways to achieve this goal.
Your gym and your trainers need to build trust and gain the attention of your potential customers. To do this, you need a plan: a customer generation plan.
Businesses that have a customer generation plan get 67% more customers per month than businesses that simply advertise.
How to attract more members to a gym
Your customer acquisition plan should underpin and strengthen your gym in general. But how do you start to create that plan and generate those leads?
Define goals and objectives
What do you really want to achieve with your leads?
Here's the thing: leads are different. A lead is a potential customer, but because there are so many different types of customers in your gym, the process is not so black and white. This is where our next step comes in.
Identify your ideal client
You need to know what they are "buying for", i.e. what your ideal potential client is like.
All the data and information you can gather from your potential customers is welcome. In a competitive industry, the more you know about your customers, the more likely you are to reach them.
This allows you to determine to what extent a customer is ready to buy, but has not yet contacted you.
Your ideal potential customer has a certain age, gender and interests. And it is from them that you get to know your customers, but also your future customers, getting their attention. To do this you have to know who they are, what they do, their desires, their wishes, their objections… and how you help them in everything they are looking for related to you.
Want to get more customers in your box?
Download our ebook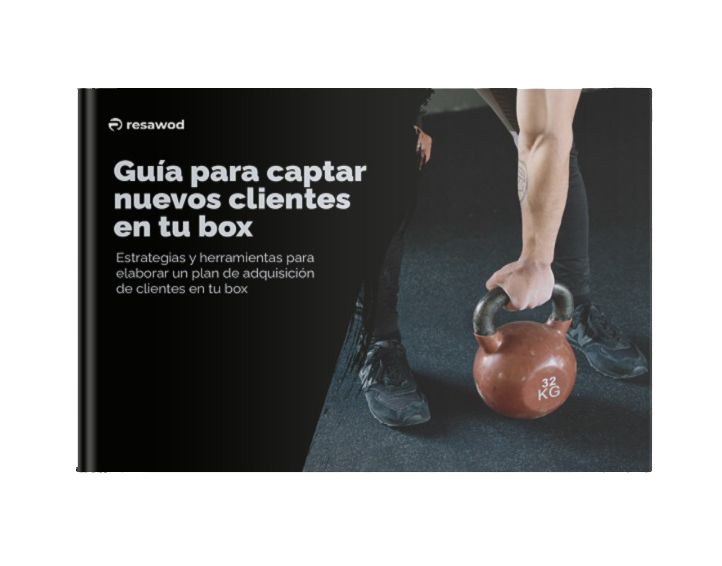 5 strategies to attract new members in a gym
1. Get feedback from the users that you already have in your gym
If you are having trouble getting new clients for your gym, get more information and analyse the clients you already have. Ask them to leave you feedback with surveys via email or social media, and include questions such as:
What do they like best about your gym?
What would they change about the gym? What?
Why did they leave their last gym?
The things they would like to change are often the barriers to entry for new customers.
Do you think user feedback is not important? Check out this article: Crosstraining box reviews: how to get them and why they are important.
2. Implement an email marketing strategy in your gym
Activate your client list with a series of automated emails, or use SMS to communicate offers. Even if they don't come through, you need to take care of the customers you already have because they are your target audience and are more likely to engage and attract new, quality customers to your gym.
3. Have a social media community
Social media presence is everything. Research what platform your potential customers are on: Facebook, Instagram, Twitter, Tik Tok ….
Create an interesting content strategy that informs and motivates them to train. Also take advantage of trending content topics and hashtags to attract new customers to your gym.
Combine this content strategy together with network ads to capture the attention of new customers and then build customer loyalty with interesting and useful content.
*If you want to know more about advertising on social media, we recommend this article, Facebook Ads: attract new users to your gym.

Another good way to find out what kind of content you should create is to look at what people search for on Google. It is an endless source of content ideas on topics that users are interested in.
 4. Position your gym as an expert
When it comes to sport, customers feel more comfortable with experts. Position yourself as an expert by sharing valuable content with your target audience, without selling them your services.
A good way to demonstrate expertise is to blog about health and fitness related topics. Ebooks, infographics, instructional videos, webinars and podcasts are other effective ways to position yourself as an authority figure in the industry.
To attract new clients to your gym, share this content with your audience via the web and social media.
Resawod idea: Create separate landing pages where people can download the content for free by registering.
5. Make partnerships with local business
A great way to attract new customers to your gym is to create partnerships with nearby businesses that may share with you types of customers.
For example, shops that sell nutritional products in your area generally have customers interested in health and fitness. Many of these people exercise and attend a gym (or want to). This is your opportunity to get your business in front of these people.
How? By offering a commission to the business owner for referrals.
Another good idea is to create a link to your gym on the nutrition shop's website. To do this, check if they have a local resources page or a recommended products and services page. Offer them something in return for the link: you could refer your own clients to the shop when they ask for advice on nutritional products.
Extra idea: Create a training plan for new customers at your gym
The more value you can offer a user, the more they will trust your gym. Creating free workout plans, nutrition plans or goal-setting worksheets is a great way to offer free resources to potential new clients.
Offer a free gift in exchange for an email address. Let them know that you will send them more information of value to them once they have given you their email address.
Ultimately, while it may seem impossible at times to attract more customers to your gym, establishing simple strategies that utilise all available tools can maximise the potential for attracting new customers.
By nurturing and leveraging your existing customer base, growing your online presence and engaging with your target audience, you create an effective customer attraction plan.